Creating small business budget is an important task to track income and expense and compare the result with actual. You can create the budget in xero via budget manager or go with excel sheet.
If You are using Excel, you are required to set up formulas to give increase and decrease effect. With Xero, you can create a budget without any calculation.  You can create the budget for your business and compare it with actual data using Xero Reporting features.
How to create budget in Xero ( Learn with Video & Article)
There are two ways to create budget in Xero:
Manually
Importing data
Let's have a look at both options:
#1: Creating the budget manually using Xero Budget Manager:
You can create multiple budgets in Xero with or without tracking categories. Follow steps below to prepare the budget in Xero:
Go to Reports < All reports < Budget manager. ( You can find budget manager under Financial category in reports).Here, you can find option Create New Budget. ( See screenshot below).
Name the budget and tracking category. Choose none if you do not want to prepare budget category wise. You have option to choose the first month of the budget. You can also see actual figure for past months to get reference while creating budget. Choose none if you do not want to see past data.You can create 3 month, 6 months, 12 months and 24-month budget using Xero. Once all things are set, click on update
Enter budgeted income and expense amounts in blue coloured boxes for one month.
 When you click on any row or month heading, you can see green arrow. When you click on the green arrow, you can see pop out to set adjustment for a whole month or specific row.
Click on the green colour arrow  ( See screenshot below) and you can see following pop out.
You can see four options:
The first option will erase all data from specific month, ( When you click on green arrow near month name)
the second option will copy all data for the month and paste it to all remaining months. You can use this option when you want the same amount for all months.
The third option will give you the option to adjust by amount. Suppose you put sales as $10000 in April month and adjust by amount as $1000. Your budgeted sales will be $11000 for May month, $12000 for June month and so on.
The fourth option will give you option adjust by percentage. In this case, your budgeted amount will change by a percentage each month. Suppose you put sales as $10000 in April month and adjust by percentage as 2%. Your budgeted sales will be $10200 for May month, $10404 for June month and so on.
What if you want to give a decline effect? Just put the "-" sign while setting adjustments.
#2: Import budget template in Xero:
Another method to create a budget in Xero is by importing a budget sheet in Xero.
Go to Budget Manager
Click on import at the bottom of the page.
You will be redirected to the following screen.
Download Xero template.
You can see various accounts with blank rows. Fill budgeted figure in rows. If you do not want any account to be budgeted, leave it blank.
Save the file in CSV format and import in Xero.
Generally, I prefer the first option to create the budget in Xero for my clients. It is easier and fast option. You can export budget file in excel, google sheet or CSV format. You can unlimited budgets in Xero as per your requirement. Budget ( Excluding overall budget) can be deleted via delete button on left corner if you do not need in future.
How to analyse Xero Budget via Xero Reports:
#1: Xero budget variance report: comparison with actual data:
The main use of budget compares the budgeted numbers with actual numbers. This can help in cost cutting and track the progress in business. Xero fulfils this requirement via Xero Budget variance report. Follow the steps below to view and analyse the budget in xero.
To see budget variance and compare actual data with budgeted data, go to Reports < All Reports < Budget Variance. ( In financial section).
Here, you can check various report.
To see a variance, go to current format < Actual vs overall budget.
Here, you can see 8 – columns- Actual monthly data, budgeted monthly data, variance in amount, variance in %, yearly data, yearly budgeted data, yearly variance in amount, variance in amount.
You can create the new layout by clicking the button Layout options at the bottom menu. Here, you can move different accounts or create different groups for accounts and present this variance report in the new layout. You can anytime edit this layout, set as the favourite or delete it.
#2: Budget summary report: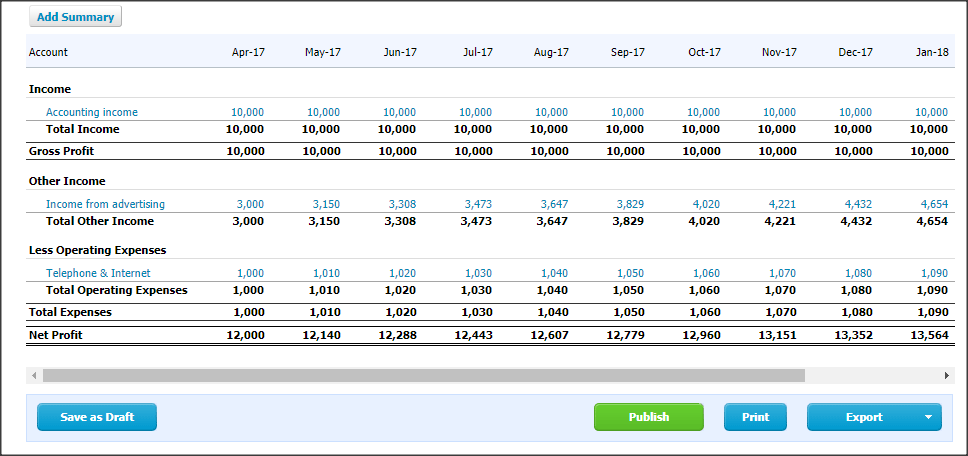 You can view budget summary for any period using budget summary report in Xero. Take steps below to use budget summary report:
Go to reports < All reports < Budget summary in financial section.
If you set budget as per tracking category, you can view budgets category wise. Otherwise, you can view budgets you have prepared ( without tracking category).
Select month from which you want to see a budget summary, period ( monthly, quarterly, yearly), the number of periods.
Xero gives you the option to add a summary of the report. To add a summary, click the button on top left.
You can publish this report if you have adviser role.
You can print this report or export it in excel, pdf or google sheets.
#3: Account summary report:
You can review actual and budgeted amounts for various expense and incomes via Account summary report. Take steps below to view budget variance account wise:

Go to Reports < All reports < Account summary ( You can find this report in accounting section).
Select account, the period for which you want to see a summary, budget you want to compare actual with. ( See screenshot above)
You can see actual, budgeted amount and variance % column.
Xero presents a summary in the beautiful graph for quick analysis.
Similar to other reports, this report can be printed, published or saved.
The budget summary report is a simple report showing the periodical budget. Another side budget variance report and account summary report gives you more detailed knowledge about variance or loops in implementing the budget in business. Xero is improving reporting features and giving subscribers more features. I hope we would get more from Xero Budget Manager in future. Meanwhile, you can use Xero budget add-on.
Xero budget add-on:
Every business has separate reporting requirements. If you want more reporting features, you can move on to Xero Budget Add-on. Here is the list of Xero budget add-ons:
Floatapp: Floatapp provides you cash flow forecasting, budgeting, detailed reporting and data import and export features. Pricing stars with $49 / mo with 3 user accounts. You can get 30 days trial.
Futrli: Futrli is similar app with extra features of business planning, KPI reporting. scenario planning. It has straight pricing – $49.99/mo with unlimited users. A trial is available with this app.
Profitsee: If you want enhanced reporting features, profitsee is for you. It provides KPI reports, business valuation, consolidation with budgeting features. The business owner can access data and reports via mobile phone. Profitsee has very affordable prices for small business. Pricing starts with $18/mo.  If you want more features, you can purchase add-ons. The trial is available with this app.
There are other add-ons available for budgeting features. You can review them all with this link and choose as per your business need.
Join Xero Mastery course at $39
If you want to learn Xero Accounting, join my free Xero Online Course.
More than 500 students join the course and learning. You will learn following in this course:
Xero Purchase / Sales / Expense Claim
Xero Sales
Xero Expense Claims
Bank Reconciliation in Xero
Xero Reporting
Xero Budgeting
Chart of Accounts
Wrap up:
The #1 reason for the popularity of Xero is its simplicity and user-friendliness. Xero gives you the easiest way to create, import, export, publish and analyse a business budget. You can prepare a budget in Xero within few hours and publish the report.