Badcreditloans.com is the easiest option to apply for loan while having bad credit. Read our post on badcreditloans.com review. In this post, we explain the eligibility criteria for getting loan, bad credit loans terms and how to apply and get bad credit loans using this platform.
Badcreditloans.com review : Get short term loan while having bad credit history
What is badcreditloans.com?
It is neither  bank nor lading company. Badcreditloans.com is aggregator who connects lenders and borrowers. It is working from 1998. It is helping people with bad credit history to get short term loan easily. You get multiple lending offers with this platform.
What are terms of getting loan?
You can get loan from $500 to $5000. The loan period ranges from 3 to 60 months. Interest range ranges from 5.99% to 35.99%.
What are the reasons you can apply loan for?
You get liberation for the reasons of applying loan.
Debt/Cr​​​​​edit Card Consolidation
Credit card consolidation
​Down Payment of Home loan
Big Purchase
Home Improvement
Medical Expenses
Moving​​​​ or Relocation expense
Business
Education
Wedding expense
What are eligibility criteria for getting loan?
Below are the criteria for getting loan:
You are at least 18 years old.
You are US citizen or permanent residence.
You should have a checking account on your name.
You should have regular income from job, business, disability or social security benefits.
You should have valid phone number and email id.
How to apply for bad credit loan?
There are simple three steps to get the loan.
Fill the short application online:
You can apply for loan directly on website of Badcreditloans.com. It takes only two minutes to get the estimated landing rate. Just enter your personal info, loan amount required, reason of loan, financial income details.
The platform does the soft check of your credit and gives you the landing rate.Though this is not the actual rate of loan, it might be nearby rate you will be able to get loan.
Choose your options:
Once you enter the details, you get the access to badcreditloans.com platform. Here, you find the pre-approved loan offers from different lenders.
Please note that this is not actual offers to you but these offers are suitable as per your credit history.You need to analyse all the options and choose suitable offer.
Apply for loan:
Once you choose the offer, you need to apply for the loan. The lender will review your application and ask for more details such as financial data and credit history.Once everything is set, the lender will work directly with you.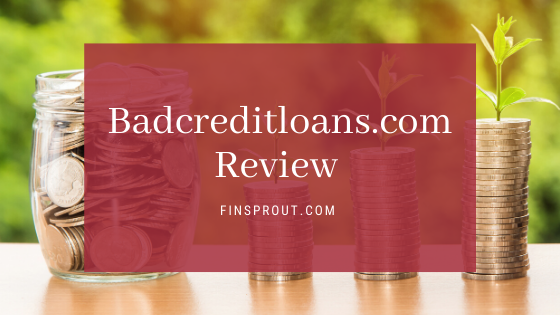 Pro & Cons of Badcreditloans.com
Easy option for person with bad credit:
Just think the headache you get while applying loan with bad credit history. It is time consuming and frustrating. Badcreditloans.com saves your time and energy so that you can fund at right time.
Wide reasons for loan:
There are no strict reasons required to get loan. You need to have minimum info and regular income to get the loan easily. Have dream of starting new business? Go ahead and apply for loan.
Multiple loan offers available:
This is the biggest benefit of badcreditloans.com. As there are multiple lenders offering loan facility, you have good options to choose for loan. This will give you advantages of getting loan at your terms.
Lower interest rate:
When there is competition, there are benefits to customer. On badcreditloans.com, lenders are compete with each other to get more clients. This will give you competitive interest rate for your short term loan.
Full disclosure:
You will get a document with all disclosure before accepting the loan. It includes rate, charges and other information of the loan. This gives you opportunity to understand the terms and accept the loan  if it is in good for you.
Free to apply:
There is no upfront fee to use the platform or access your loan options. You have the liberty to accept or decline the loan offers.
Rescue in emergency:
The platform rescues in times of emergency when regular bank and finance institute refuse to help during crisis.
Bank transfer within a day:
Traditional loan process takes weeks and months to get the money. On the other side, with badcreditloans , you will get the money within a day in your bank account.
[sc name="badcreditloansquare500″ ]
Cons of Badcreditloans.com
High interest rate:
Due to high risk, lenders charge higher rate for loans. However, it varies as per your credit history. If you have good credit history, rate will be lower.
Need to provide personal info:
You need to provider personal info on the platform to access the loan option. However, the platform protects your information with high level encryption technology.
Important things to be considered:
The work does not complete on getting the loan. You need to consider repayments seriously if you want to improve your credit history.
Loan interest is aligned with your credit history. Getting finance at higher rate frequently will ruin your financial life.
We advice you to pay each installment on timely basis to avoid the late fees. If you have enough cash later, you can opt for prepayment and close the loan. Who needs the loan burden anyways. ?
Rating :
Badcreditloans.com BBB review:
This business is not BBB accredited. There are only two reviews available on BBB. There are 0 complains in past 12 months for this business. There is no enough data to consider this review.
Badcreditloans.com trust pilot review:
There are 7 reviews on trustpilot. All 6 reviews are positive except 1. The negative review does not seem legible to us. Other reviews show thankfulness for getting loan with bad credit.
FAQ:
Q.Is this loan affect my credit score?
Ans. If you pay the loan installment on time, it will not affect your credit score. However, if you delay payments or don't pay the loan, lender might contact credit bureau which ultimately affects your credit score
Q.What are the implications of non payment?
Ans. Non payment results into penalty and interest charges. It varies form lender to lender. You need to read loan document carefully to know non payment charges and collection policies.
Q. Is it compulsory to opt for loan if I create account on badcreditloans.com?
Ans. Opting for loan is optional. NO matter you have created the account or discuss the things with lender. You can refuse to accept the loan.
Wrap Up: 
Having bad credit history becomes troublesome when you are in need of emergency fund. Badcreditloans.com helps you in this situation. We suggest give it a try and choose your options. This platform is open for persons with all type of credit history. Apply Today.